FrogQuest is a high-energy game, putting adventurous, costume-clad teams in competition with each other to capture daring, interactive photo quests on their smartphones. Each team is given the same list of quests, and each quest is worth a varying amount of points based on difficulty, daring, and whimsy. High score wins!
Quests might have you mummifying a teammate with toilet paper, convincing a stranger to eat an ice cream cone seductively, or your entire team in a 25+ person conga line.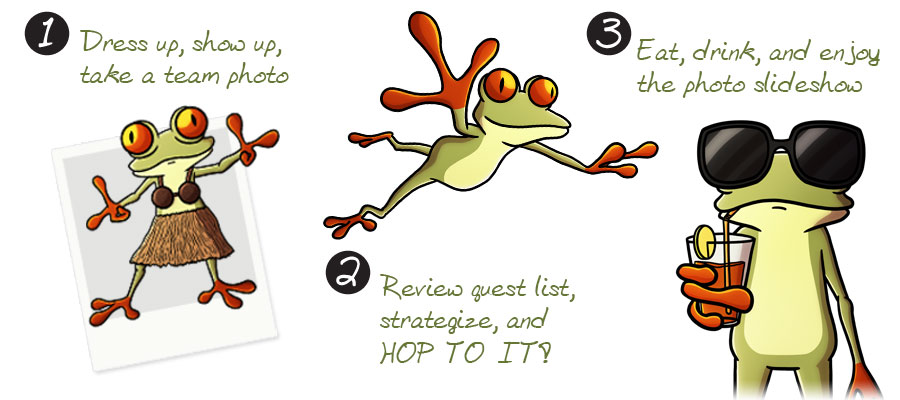 The gameday will basically go like this...
You and your teammates show up (in costume or theme, right?) to the venue, check in with our coordinator, then take a team photo with your web-enabled mobile phone.


The event coordinator will hand out sealed envelope containing the same list of super secret photo quests to each team. Do not open the envelope until the game officially starts. Then quickly strategize and HOP TO IT, being sure to email back the evidence as you complete each quest!
Return to the starting point once the game concludes (usually 2.5 hours later) for food and drink specials, sit back and relax while you enjoy the photo slideshow, after which we'll announce the winning team.
When you register, you will be asked whether you are registering as an individual or as a team.
Individuals: will be randomly grouped into teams and one team member will randomly be assigned team leader.
Team: If you register a team, you become team leader and will need to recruit the rest of your 4-6 person team yourself.
Team Leader Responsibilities: As team leader, you simply organize your team with regards to strategy, costume/theme, and team name. You can handle that, right? If not, you can always delegate.
Team pictures must contain your entire team, which means you'll require the help of strangers to take these photos.
Where strangers are required as part of the quest, the stranger must be someone you do not know. Furthermore, the same stranger cannot be used for more than one quest. So, once you've taken a photo of a stranger, consider them family! Find a new stranger for the next quest.
Where only one or two teammates are required to be in the photo, the team is encouraged to do their best to rotate among themselves so that everyone gets involved.
Teams should email their photos as they go using their web-enabled mobile phones. This is so we can organize, validate, and score them in real time, making sure to have the slide show ready to go when you finish.
Each team may submit only one photo per quest. However, if that photo is returned for not meeting the criteria or you think you've outdone your first try, you may submit again.
Only one attached photo submission per email.
Teams may use whatever means of transportation available to them, though we highly encourage self-propelled methods over motorized.
Teams should not be larger 6 members.
You are not allowed to use photos from the internet to help you if it makes accomplishing the quest significantly easier by doing so.
All scoring decisions by our judges are final. Bonus points could be awarded based on any of the following criteria:
Originality
Creativity
Level of effort
How well you met the criteria
How awestruck we are
Framing/Composition (not *just* a snapshot)
Whether we involuntarily laugh
Whether we involuntarily shout expletives (WOW!)
You are NOT required to complete all quests on the list. If you don't feel you can complete a quest safely, legally, and/or without damaging private property, skip it! We want you to have fun, not go to jail or get hurt.
Bring a phone charger: You'll be making good use of your phones while playing the game, which tends to drain the battery. So, we recommend starting with a full charge and bring a charge cable to recharge afterwards.