FrogQuest is a high-energy game, putting adventurous, costume-clad teams in competition with each other to capture daring, interactive photo quests on their smartphones. Each team is given the same list of quests, and each quest is worth a varying amount of points based on difficulty, daring, and whimsy. High score wins!
Quests might have you mummifying a teammate with toilet paper, dressing up exactly like a mannequin, or getting into a thumb war with a cop...then capture photo evidence to prove you did it!
Any large group of people who want to spend time playing together! Doesn't matter Whether everyone knows each other beforehand or not, because they certainly will by the end. That's why this is great as a team building! But, it's also a great way for families and friends to spend an afternoon at a family reunion, bachelorette party, birthday party, etc.
We customize each hunt, so we can dial things up for an "adults only" sort of thing, or dial it way down and keep it very PG to make it work for a teenager's birthday party. And of course, we can do anything in between!
We've seen groups both small and large, but as a rule we recommend having at least 12 (3 teams) to make it fun. Larger groups of 100-200+ people work even better. This really is a "more the merrier" kind of thing!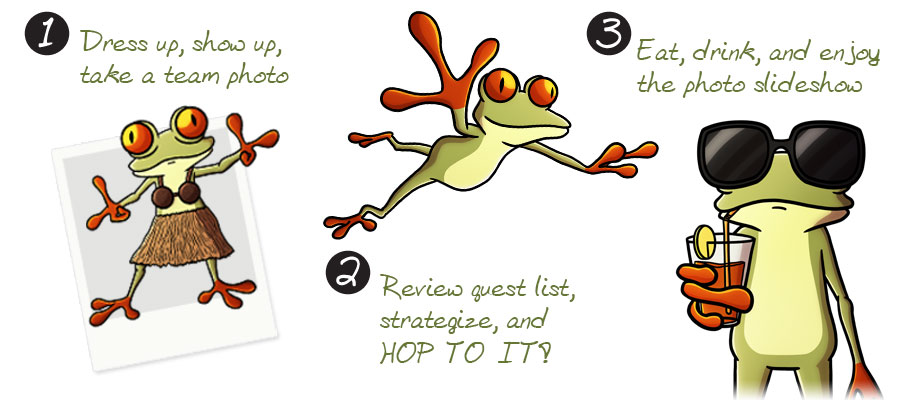 The gameday will basically go like this...
You and your teammates show up (in costume, right?) to the mutually agreed upon starting point, check in with our coordinator, then take a team photo with your smartphone.


Our event coordinator will hand out sealed envelope containing the same list of top-secret photo quests to each team. Once we start, open the envelope, quickly strategize, then HOP TO IT! You'll email us the evidence as you complete each quest to an event-specific email address!
After hunting, return to the starting point (usually 2.5 hours later) for food, drink, and a curated photo slideshow. This is at least 50% of the fun!
Some quests require your entire team be in the photo, so you'll need to ask rely on the photographic skills of strangers.
Some quests require strangers be in the photo, but each team can use each stranger only one time.
Teams should get all team members in front of the camera as much as possible.
Teams should email their photo evidence as they go so we can organize, validate, and score them in real time, making sure to have the curated photo slide show ready to go when you return.
Each team may submit only one photo per quest. However, if that photo is returned for not meeting the criteria or you think you've outdone your first try, you may submit again.
Only one photo may be attached to each email.
You cannot complete multiple quests with a single photo
Teams may use whatever means of transportation available to them, though we highly encourage self-propelled methods over motorized.
Teams cannot be larger than 6 members.
We will deduct points or reject submissions if you make the quest easier than intended (by pulling images off the internet for instance). We do however encourage creativity!
All scoring decisions by our judges are final. Bonus points could be awarded based on any of the following criteria:
Originality
Creativity
Level of effort
How well you met the criteria
How awestruck we are
Framing/Composition (not *just* a snapshot)
Whether we involuntarily laugh
Whether we involuntarily shout expletives (WOW!)
You are NOT required to complete all quests on the list. If you don't feel you can complete a quest safely, legally, and/or without damaging private property, skip it! We want you to have fun, not go to jail or get hurt.
Bring a phone charger: You'll be making good use of your phones while playing the game, which tends to drain the battery. So, we recommend starting with a full charge and bring a charge cable to recharge afterwards.